Casa Almondes – 80 Residencia Luz Bahia, Sierra de las Moreras, Puerto de Mazarron, Murcia, Spain
We have owned our house since 2006, and we love it. It's a 2 bedroomed terraced house in a gated and secure mini complex in the centre of the fishing village of Puerto de Mazarron.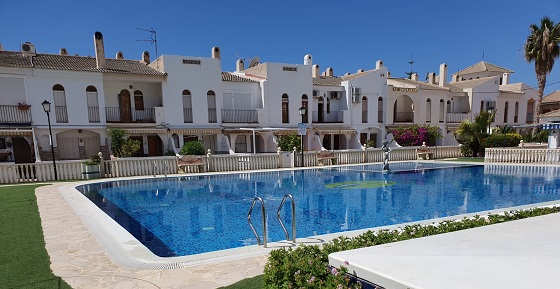 Downstairs, the house has a living room with small kitchen, toilet, a private fenced courtyard at the back of the house. As part of the courtyard, we have a utility room with a washing machine, pushchair, and a storage area for the barbeque etc. We also have a large awning which you can pull out to provide a shaded area. At the front of the house, we have a small area for sitting outside to shade yourselves from the sun, or have a drink!!
Upstairs we have a bathroom with bath, shower and toilet, a bedroom with bunk beds, and a double bedroom with fitted wardrobes.
Every room has air conditioning both hot and cold. There is also a stair gate and travel cot for those with young children.
The complex itself is lovely, most people live there permanently and the pool and gardens are all serviced by permanent staff. The pool is beautiful, with an area for kids and adults to enjoy. Siesta is between 15.30 and 17.30 hours, where most families cook their dinners and eat at home (the smells are amazing).
Our house is in the centre of the town, so everything is less than a 15 minute walk. There are three different beaches to choose from, ranging from touristy beaches with shops, to secluded areas suitable for young children where the water is shallow and protected from tidal currents.
The walk along the Palm Tree covered Passeo is relaxing and picturesque. There are plenty of shops and restaurants to busy yourselves, and the Menu del Dia (menu of the day) is great value if you want to eat our during the afternoon.
Away from the seafront, there are plenty of traditional shops and restaurants to choose from, with Indian & Chinese Buffets to choose from along with many Mediterranean style Bar / Café's. The town also has four supermarkets including Lidl. Our nearest supermarket is called Arbol, which is 5 minutes walk and has a bakery for fresh baguettes etc every day.
There are plenty of activities to choose from including boat trips, childrens train rides (peak times) scuba diving, fishing, and a water park in Murcia city centre. The area is more suited to couples and families with youngish children and provides a very Spanish atmosphere, with a great Sunday Market which is one minute walk away.
If you don't want to drive from the airport, we can arrange to get you picked up or dropped off from either Alicante or St. Javier (Murcia) airports, which takes the stress away from driving and finding our house. Given the location of our house in Puerto de Mazarron, there really is no need for a car as everything is walkable.
Things to do and places nearby
https://www.spain-holiday.com/Punta-de-Calnegre/articles
https://www.spain.info/en_GB/que-quieres/ciudades-pueblos/otros-destinos/aguilas.html
https://www.spain-holiday.com/Bolnuevo
For any further information, contact Les on 07918 648 946 or contact us here.